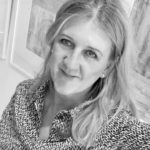 Dörte Meichsner is a German artist based in Hamburg. She pursued her work as a free artist upon graduating in graphic design and has worked as an art director in the following years.
In 1999 she opened the joint art studio "Hinter den Deichtorhallen" with other local artists in Hamburg, followed by the studio "Die Malerei" in 2004 – alongside having several exhibitions in the region. Besides her artistic work, Dörte hosted a variety of art courses and workshops.
From 2011-2015 she lived and worked in Qatar. During these years her work had been noticeably influenced by the Arabic culture, the intense lifestyle and the extraordinary light created atmosphere. Her works have been shown in several exhibitions in Doha.
In addition she became a member of the "Qatar Fine Arts Society" and the "International Artists Doha"; within the group she was in charge of organizational work for exhibitions and workshops. She worked as an instructor for art at the renowned American "Virginia Commonwealth University Qatar" and offered further workshops in a multinational gallery.
In 2015 she returned to her hometown Hamburg and opened the "Gallery KUNSTZIMMER eppendorf" where also her studio was located. She there showed her work in changing exhibitions and curated numerous single and group exhibitions with other local and international artists. She also held art classes for adults in her rooms.
In January 2020 she continued her work with KUNST(Z)IMMER in Hamburg and opened a new studio in Gavalochori, Crete.